Define, Engage, Lead and Thrive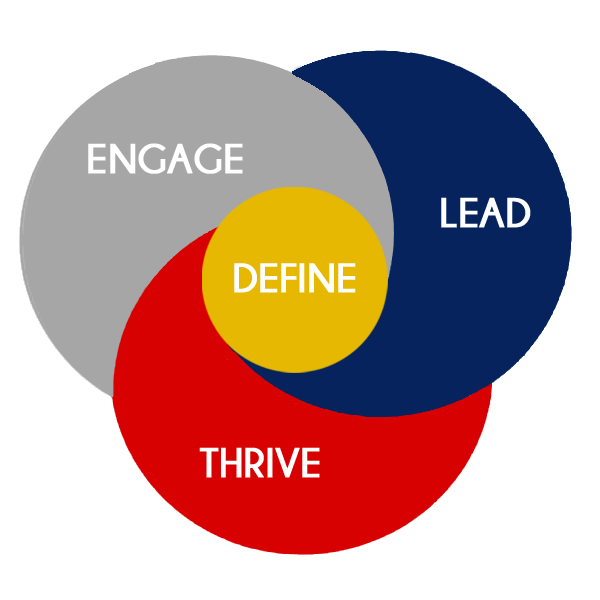 DEFINE – Your Strategic Purpose
Great businesses have a purpose and a vision and that is shared with stakeholders. We work with you to create your Strategic Purpose, which is the heart of your business. We guide you through the process and look at all facets of your business to ensure you are ready for the next step or we review what is in place.
The focus is to create a clear vision for everyone and enhance your current procedures and introduce processes to ensure longevity. Experience tells us, that this is the most important fact of business. Where and when there are disruptions in your business, it will all fall back to this arena.
Your clear Strategic Purpose is paramount to creating an environment where your team and profits thrive.
ENGAGE – The Preferred Employer
A company with Engaged Employees will outperform those without by 202% (Gallup). You as the CEO can drive the change and engagement to be a top performer. We work with you to discover your true culture by engaging your people and by using intelligent psychometric tools.
We help you set individual and team Key Performance Indicators, purposeful job descriptions and goal setting.
We work with you to re-engage your team and to recruit new members as required. We are able to coach and mentor your employees and you, and with the use of our intelligent psychometric tool we can create superior communication between individuals and teams. With the implementation of reviews and rewards, open communications, you will see a noticeable change.
LEAD – Creating a Learning Organisation
This starts with you. A recent survey by Businesssolver revealed that 92% of employees said that an empathetic leader was a driver for retention. This is where you reveal your 'Lead by Example' and encourage your team to lead.
We work directly on the challenges, develop solutions to enhance your employee skills and research your industries best, so we can benchmark your organisation. We will implement strategies to manage poor performance, review structure and outcomes, learning and development and provide you with a customer centric service strategy.
We will investigate what makes your top performers and development accountability and reporting systems. During this stage is where your leaders accept responsibility for their teams and gaining the best possible outcomes for the company.
During the LEAD stage, your culture is set, the expectations and the consistency your company will have towards the teams that run it. This process will see a higher retention rate, higher productivity and higher morale in your workforce.
THRIVE – Excellence
Creating an environment of excellence means we develop and cultivate highly driven and performing teams who have purpose and are proud of their work. The previous stages have help to deliver clarity.
With team and individual goal setting everyone in the company is spearheaded in the same direction. Career Planning, individual and team development, rewards, incentives and staff surveys create your winning team.
Keep the innovation going with your business. We will incorporate a customer survey to ensure you stay ahead of the game, giving your customers what they need. Reviewing expenditure and reducing costs, review your systems and seek alternative, cost effective and user friendly tools.
GET IN CONTACT
Feel free to reach out – I would love to have a chat about your business.